Portable Golf Practice Hole Board Set

An exciting new hybrid between golf and corn hole for the ultimate outdoor game.Create a fun golf chipping game for players of all skill levels to enjoy.Easy to learn and fun for all skills levels. 
This has quickly become the most popular yard game for family gatherings! Portable chipping practice golf net, Suitable for indoor and outdoor use.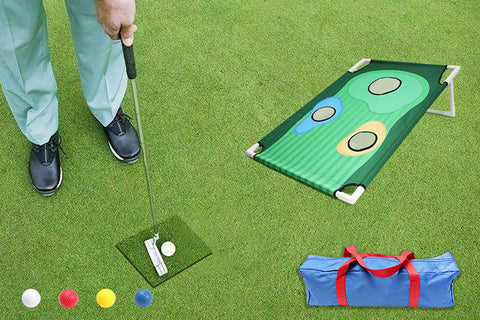 Constructed from sturdy yet lightweight PVC,assembles in less than a minute.The thickened fabric is durable, not easily deformed, and strong enough to absorb multiple balls without falling over.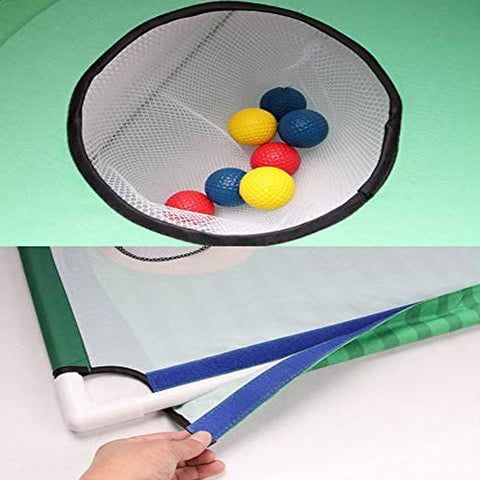 Holes of different heights can help improve the accuracy of your short-range ball cuts.
Lightweight and foldable.Equipped with a portable storage bag, can be folded and stored. You can take it at any time.Suitable for indoor/outdoor play, such as office and backyard. You can play it whenever or wherever you want, beat the limitation, set up a game with different target pockets with your families, friends or colleagues, making your practice more interesting than just hitting shots. Perfect gift choice for golf cornhole lovers.
[Product Information]:
Color: green
Material: Oxford cloth,  PU
Dimensions: 90 x 60 x 23 cm / 35.4 * 23.6 * 9.05in
Uses: golf practice hole
Packaging includes(Excluding Golf clubs):
1 * Target Net
1 * storage bag
12 * integrating sphere
1 * swing mat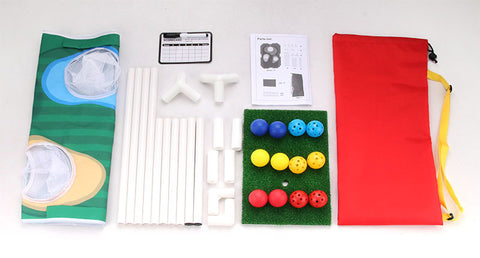 Installation Explanation:
1.Take an A tube through the top cloth cover, and put an E elbow on each end of the tube.
2.Insert the C tube into the end of the E elbow and do the same on the other side.
3.Insert the F tee into the end of the C tube and do the same on the other side.
4.After installing the F tee, adjust the direction of the tee opening as shown below
5.Insert the B tube through the cloth sleeve and insert it into the end of the F tee.
6.First combine one A tube and two D tubes with E elbow, then insert the end into the tee.
7.Insert two E elbows into both ends of A tube, and then combine them to the ends of two B tubes.
8.Wrap the end of the cloth Velcro  around the A tube, stretch it firmly, and then stick the Velcro firmly. The installation is complete.



* COVID-19 will not affect the delivery time *
Welcome to Our Store, We insist on providing customers with high-quality products and services. If you have any questions, you can contact us at any time.Hope our products will bring you and your family happiness!
Lifetime guarantee
We don't believe you will do this, but if you encounter product quality problems at any time, we will replace them for free! Just email us to meightaistyle@gmail.com