Abdominal Muscle Wheel,AB Wheel Roller with 4 Wheels,with Resistance Bands and Mat

Try this new abdominal muscle wheel, which is very suitable for the exercise of abdominal muscles. Way more effective than situps. It can make your abdominal muscles stronger.
4 Wheels uniquely designed - AB Wheel Roller With 4 wheels which provide 4 points of support, rolling more stable, no rollover, to ensure a safer fitness. Triangular structure provide excellent overall rolling motion stability.The grip more match the shoulder, help poor posture. 4 wheels structure support up to 440 lbs.Whether professional or beginner, it is suitable. It can also be removable, easy to store and carry to the gym or at home. It is compact, lightweight and portable. It is completely assembled for immediate use.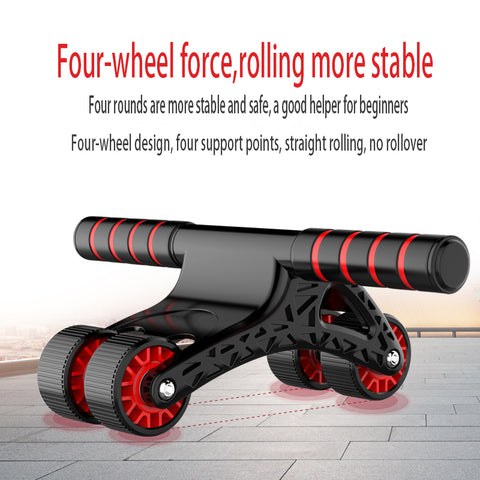 Premium Materials & Solid Construction - Anti-slip Grip Handles - The handle of the wheel consists of a comfortable sponge to ensure the health and comfort of your hand, and the handle is overall pleasant.  It is also with moisture absorption.Comfortable grips minimize hand fatigue while remaining slip-free even in the sweatiest workout.The soft thick sponge padded handles, sweat absorption and non-skid, give you a comfortable fitness experience.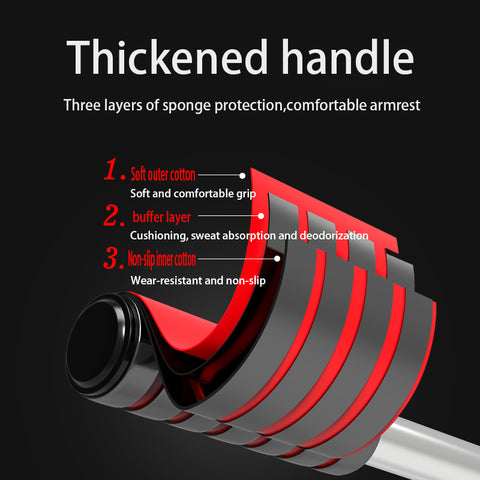 Noiseless - Each wheel is equipped with 2 bearings, smooth rolling, noiseless, perfect for indoor training.
AB Roller abdominal trainer - The AB wheel acts as your personal fitness trainer, use this wheel and the roller to sculpt your abdomen, helping you build stronger and bigger six pack abdominal muscles, burn calories, build muscle and improve your overall stamina , Occupying small space, users are able to do abdominal exercises anytime, anywhere, very comfortably.
With resistance bands - The bands support the backward movement and thus reduce the risk of injury, especially in the early days, and also they are also suitable for advanced because you can increase the training intensity of fitness training by using the resistance bands.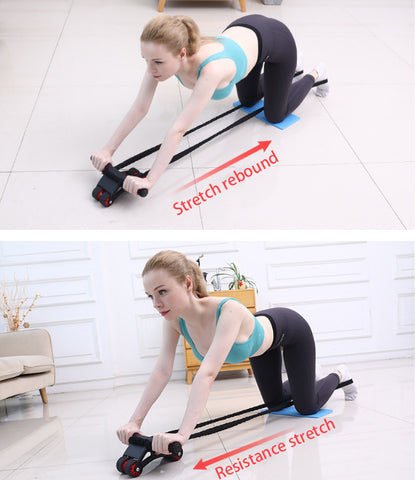 Total Body Workout - Abdominal Roller with Resistance bands Strengthens and Tones your entire body by hitting your Abs, Core, Torso, Shoulders, Arms, Upper.Full Body Workout to Build Muscle and Burn Fat. It help your abs and lower back strength, it also reduces the risk of muscle damage.You can achieve more by regularly practicing with it.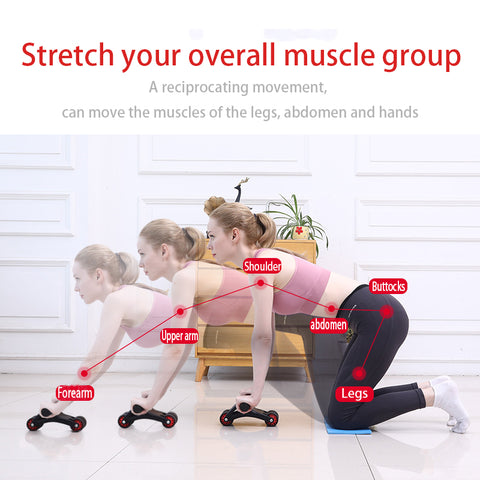 [product description]
Product Name: Abdominal Muscle Wheel
Color: Black
Size: 9.25x4.53x12.79 inch
Material: PVC + Steel Pipe + Foam
Item Type: Ab Wheel Roller
Scope of application: outdoor, office, home
Package Includes:
1 x Ab Wheel Roller
1 x Pull rope
1 x Kneeling pad
* COVID-19 will not affect the delivery time *
Welcome to our store, we insist on providing customers with high-quality products and services.If you have any questions, please feel free to contact us.
Lifetime guarantee
We don't believe you will do this, but if you encounter product quality problems at any time, we will replace them for free! Just email us to meightaistyle@gmail.com